The Most Revd George Stenhouse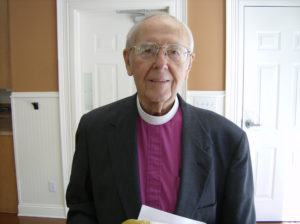 It is hard to express in words the admiration and love for Bishop George Stenhouse, who went home to his Heavenly Father on June 25, 2016.   He has been a guiding light and a true humble servant of God.  In WWII he served as a combat infantryman in the US 1st Army's campaigns from Normandy to the Battle of the Bulge where he was wounded.  He attended VMI, UNC-CH, and General Theological Seminary.  He was an Episcopal Priest and a Bishop in the Anglican Church.
When anyone was in need, he was always there with kind words and concern. When someone needed a friend, advice or any kind of help, he would go out of his way to assist in any way he could.  He will not be forgotten.
Revd Fr Reeder McDonald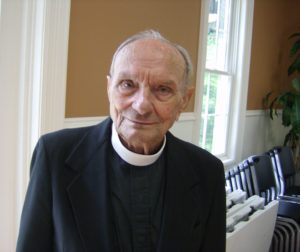 Christ Church Anglican will sorely miss "Father Pete", Reverend Reeder McDonald. He went home to his Heavenly Father on the morning of May 11th, 2015.
He served his country in the Army alongside General Patton during the Battle of the Bulge as a tank commander, receiving many medals. He was a member of Grace Episcopal, Christ Church Anglican and had attended Saint Stephen Anglican Church.  Father Pete loved to read the Bible and stayed connected to God everyday.