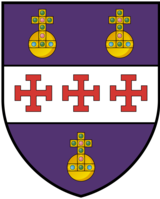 DAILY OFFICE
Wednesday Morning Prayer 10.18.17
THE Lord is in his holy temple: let all the earth keep silence before him.  Hab. 2:20.
Grace be unto you, and peace, from God our Father, and from the Lord Jesus Christ. Phil. 1:2.
LET us humbly confess our sins unto Almighty God.
A General Confession 
ALMIGHTY and most merciful Father; We have erred, and strayed from thy ways like lost sheep. We have followed too much the devices and desires of our own hearts. We have offended against thy holy laws. We have left undone those things which we ought to have done; And we have done those things which we ought not to have done; And there is no health in us. But thou, O Lord, have mercy upon us, miserable offenders. Spare thou those, O God, who confess their faults. Restore thou those who are penitent; According to thy promises declared unto mankind In Christ Jesus our Lord. And grant, O most merciful Father, for his sake; That we may hereafter live a godly, righteous, and sober life, To the glory of thy holy Name. Amen.
The Declaration of Absolution
ALMIGHTY God, the Father of our Lord Jesus Christ, who desireth not the death of a sinner, but rather that he may turn from his wickedness and live, hath given power, and commandment, to his Ministers, to declare and pronounce to his people, being penitent, the Absolution and Remission of their sins. He pardoneth and absolveth all those who truly repent, and unfeignedly believe his holy Gospel.
Wherefore let us beseech him to grant us true repentance, and his Holy Spirit, that those things may please him which we do at this present; and that the rest of our life hereafter may be pure and holy; so that at the last we may come to his eternal joy; through Jesus Christ our Lord. Amen.
The Lord's Prayer
OUR Father, who art in heaven, Hallowed be thy Name. Thy kingdom come. Thy will be done on earth, As it is in heaven. Give us this day our daily bread. And forgive us our trespasses, As we forgive those who trespass against us. And lead us not into temptation; But deliver us from evil: For thine is the kingdom, and the power, and the glory, for ever and ever. Amen.
O Lord, open thou our lips.
—And our mouth shall show forth thy praise.
GLORY be to the Father, and to the Son, * and to the Holy Ghost;
As it was in the beginning, is now, and ever shall be, * world without end. Amen.
Praise ye the Lord.
—The Lord's Name be praised.
Venite, exultemus Domino.
O COME, let us sing unto the LORD; * let us heartily rejoice in the strength of our salvation.   Let us come before his presence with thanksgiving; * and show ourselves glad in him with psalms.  For the LORD is a great God; * and a great King above all gods.
In his hand are all the corners of the earth; * and the strength of the hills is his also.
The sea is his, and he made it; * and his hands prepared the dry land.
O come, let us worship and fall down, * and kneel before the LORD our Maker.
For he is the Lord our God; * and we are the people of his pasture, and the sheep of his hand.
O worship the LORD in the beauty of holiness; * let the whole earth stand in awe of him.
For he cometh, for he cometh to judge the earth; * and with righteousness to judge the world, and the people with his truth.
GLORY be to the Father, and to the Son, * and to the Holy Ghost;
As it was in the beginning, is now, and ever shall be, * world without end. Amen.
The Psalter
Psalm 90
1 Lord, thou hast been our dwelling place in all generations.
2 Before the mountains were brought forth, or ever thou hadst formed the earth and the world, even from everlasting to everlasting, thou art God.
3 Thou turnest man to destruction; and sayest, Return, ye children of men.
4 For a thousand years in thy sight are but as yesterday when it is past, and as a watch in the night.
5 Thou carriest them away as with a flood; they are as a sleep: in the morning they are like grass which groweth up.
6 In the morning it flourisheth, and groweth up; in the evening it is cut down, and withereth.
7 For we are consumed by thine anger, and by thy wrath are we troubled.
8 Thou hast set our iniquities before thee, our secret sins in the light of thy countenance.
9 For all our days are passed away in thy wrath: we spend our years as a tale that is told.
10 The days of our years are threescore years and ten; and if by reason of strength they be fourscore years, yet is their strength labour and sorrow; for it is soon cut off, and we fly away.
11 Who knoweth the power of thine anger? even according to thy fear, so is thy wrath.
12 So teach us to number our days, that we may apply our hearts unto wisdom.
13 Return, O LORD, how long? and let it repent thee concerning thy servants.
14 O satisfy us early with thy mercy; that we may rejoice and be glad all our days.
15 Make us glad according to the days wherein thou hast afflicted us, and the years wherein we have seen evil.
16 Let thy work appear unto thy servants, and thy glory unto their children.
17 And let the beauty of the LORD our God be upon us: and establish thou the work of our hands upon us; yea, the work of our hands establish thou it.
Psalm 91
1 He that dwelleth in the secret place of the most High shall abide under the shadow of the Almighty.
2 I will say of the LORD, He is my refuge and my fortress: my God; in him will I trust.
3 Surely he shall deliver thee from the snare of the fowler, and from the noisome pestilence.
4 He shall cover thee with his feathers, and under his wings shalt thou trust: his truth shall be thy shield and buckler.
5 Thou shalt not be afraid for the terror by night; nor for the arrow that flieth by day;
6 Nor for the pestilence that walketh in darkness; nor for the destruction that wasteth at noonday.
7 A thousand shall fall at thy side, and ten thousand at thy right hand; but it shall not come nigh thee.
8 Only with thine eyes shalt thou behold and see the reward of the wicked.
9 Because thou hast made the LORD, which is my refuge, even the most High, thy habitation;
10 There shall no evil befall thee, neither shall any plague come nigh thy dwelling.
11 For he shall give his angels charge over thee, to keep thee in all thy ways.
12 They shall bear thee up in their hands, lest thou dash thy foot against a stone.
13 Thou shalt tread upon the lion and adder: the young lion and the dragon shalt thou trample under feet.
14 Because he hath set his love upon me, therefore will I deliver him: I will set him on high, because he hath known my name.
15 He shall call upon me, and I will answer him: I will be with him in trouble; I will deliver him, and honour him.
16 With long life will I satisfy him, and shew him my salvation.
Psalm 92
1 It is a good thing to give thanks unto the LORD, and to sing praises unto thy name, O most High:
2 To shew forth thy lovingkindness in the morning, and thy faithfulness every night,
3 Upon an instrument of ten strings, and upon the psaltery; upon the harp with a solemn sound.
4 For thou, LORD, hast made me glad through thy work: I will triumph in the works of thy hands.
5 O LORD, how great are thy works! and thy thoughts are very deep.
6 A brutish man knoweth not; neither doth a fool understand this.
7 When the wicked spring as the grass, and when all the workers of iniquity do flourish; it is that they shall be destroyed for ever:
8 But thou, LORD, art most high for evermore.
9 For, lo, thine enemies, O LORD, for, lo, thine enemies shall perish; all the workers of iniquity shall be scattered.
10 But my horn shalt thou exalt like the horn of an unicorn: I shall be anointed with fresh oil.
11 Mine eye also shall see my desire on mine enemies, and mine ears shall hear my desire of the wicked that rise up against me.
12 The righteous shall flourish like the palm tree: he shall grow like a cedar in Lebanon.
13 Those that be planted in the house of the LORD shall flourish in the courts of our God.
14 They shall still bring forth fruit in old age; they shall be fat and flourishing;
15 To shew that the LORD is upright: he is my rock, and there is no unrighteousness in him.
GLORY be to the Father, and to the Son, * and to the Holy Ghost;
As it was in the beginning, is now, and ever shall be, * world without end. Amen.
The First Lesson
1 Kings 18:25-30, 36-46
25 And Elijah said unto the prophets of Baal, Choose you one bullock for yourselves, and dress it first; for ye are many; and call on the name of your gods, but put no fire under.
26 And they took the bullock which was given them, and they dressed it, and called on the name of Baal from morning even until noon, saying, O Baal, hear us. But there was no voice, nor any that answered. And they leaped upon the altar which was made.
27 And it came to pass at noon, that Elijah mocked them, and said, Cry aloud: for he is a god; either he is talking, or he is pursuing, or he is in a journey, or peradventure he sleepeth, and must be awaked.
28 And they cried aloud, and cut themselves after their manner with knives and lancets, till the blood gushed out upon them.
29 And it came to pass, when midday was past, and they prophesied until the time of the offering of the evening sacrifice, that there was neither voice, nor any to answer, nor any that regarded.
30 And Elijah said unto all the people, Come near unto me. And all the people came near unto him. And he repaired the altar of the LORD that was broken down.
36 And it came to pass at the time of the offering of the evening sacrifice, that Elijah the prophet came near, and said, LORD God of Abraham, Isaac, and of Israel, let it be known this day that thou art God in Israel, and that I am thy servant, and that I have done all these things at thy word.
37 Hear me, O LORD, hear me, that this people may know that thou art the LORD God, and that thou hast turned their heart back again.
38 Then the fire of the LORD fell, and consumed the burnt sacrifice, and the wood, and the stones, and the dust, and licked up the water that was in the trench.
39 And when all the people saw it, they fell on their faces: and they said, The LORD, he is the God; the LORD, he is the God.
40 And Elijah said unto them, Take the prophets of Baal; let not one of them escape. And they took them: and Elijah brought them down to the brook Kishon, and slew them there.
41 And Elijah said unto Ahab, Get thee up, eat and drink; for there is a sound of abundance of rain.
42 So Ahab went up to eat and to drink. And Elijah went up to the top of Carmel; and he cast himself down upon the earth, and put his face between his knees,
43 And said to his servant, Go up now, look toward the sea. And he went up, and looked, and said, There is nothing. And he said, Go again seven times.
44 And it came to pass at the seventh time, that he said, Behold, there ariseth a little cloud out of the sea, like a man's hand. And he said, Go up, say unto Ahab, Prepare thy chariot, and get thee down, that the rain stop thee not.
45 And it came to pass in the mean while, that the heaven was black with clouds and wind, and there was a great rain. And Ahab rode, and went to Jezreel.
46 And the hand of the LORD was on Elijah; and he girded up his loins, and ran before Ahab to the entrance of Jezreel.
Benedictus es Domine
BLESSED art thou, O Lord God of our fathers; * praised and exalted above all for ever.
Blessed art thou for the Name of thy Majesty; * praised and exalted above all for ever.
Blessed art thou in the temple of thy holiness; * Praised and exalted above all for ever.
Blessed art thou that beholdest the depths, and dwellest between the Cherubim: * praised and exalted above all for ever.
Blessed art thou on the glorious throne of thy Kingdom: * praised and exalted above all for ever.
Blessed art thou in the firmament of heaven: * praised and exalted above all for ever.
GLORY be to the Father, and to the Son, * and to the Holy Ghost;
As it was in the beginning, is now, and ever shall be, * world without end. Amen.
The Second Lesson
James 2:1-13
1 My brethren, have not the faith of our Lord Jesus Christ, the Lord of glory, with respect of persons.
2 For if there come unto your assembly a man with a gold ring, in goodly apparel, and there come in also a poor man in vile raiment;
3 And ye have respect to him that weareth the gay clothing, and say unto him, Sit thou here in a good place; and say to the poor, Stand thou there, or sit here under my footstool:
4 Are ye not then partial in yourselves, and are become judges of evil thoughts?
5 Hearken, my beloved brethren, Hath not God chosen the poor of this world rich in faith, and heirs of the kingdom which he hath promised to them that love him?
6 But ye have despised the poor. Do not rich men oppress you, and draw you before the judgment seats?
7 Do not they blaspheme that worthy name by the which ye are called?
8 If ye fulfil the royal law according to the scripture, Thou shalt love thy neighbour as thyself, ye do well:
9 But if ye have respect to persons, ye commit sin, and are convinced of the law as transgressors.
10 For whosoever shall keep the whole law, and yet offend in one point, he is guilty of all.
11 For he that said, Do not commit adultery, said also, Do not kill. Now if thou commit no adultery, yet if thou kill, thou art become a transgressor of the law.
12 So speak ye, and so do, as they that shall be judged by the law of liberty.
13 For he shall have judgment without mercy, that hath shown no mercy; and mercy rejoiceth against judgment.
Jubilate Deo
O BE joyful in the LORD, all ye lands: * serve the LORD with gladness, and come before his presence with a song.
Be ye sure that the LORD he is God; it is he that hath made us, and not we ourselves; * we are his people, and the sheep of his pasture.
O go your way into his gates with thanksgiving, and into his courts with praise; * be thankful unto him, and speak good of his Name.
For the LORD is gracious, his mercy is everlasting; * and his truth endureth from generation to generation.
GLORY be to the Father, and to the Son, * and to the Holy Ghost;
As it was in the beginning, is now, and ever shall be, * world without end. Amen.
The Apostles Creed
I BELIEVE in God the Father Almighty, Maker of heaven and earth: And in Jesus Christ his only Son our Lord: Who was conceived by the Holy Ghost, Born of the Virgin Mary: Suffered under Pontius Pilate, Was crucified, dead, and buried: He descended into hell; The third day he rose again from the dead: He ascended into heaven, And sitteth on the right hand of God the Father Almighty: From thence he shall come to judge the quick and the dead. I believe in the Holy Ghost: The holy Catholic Church; The Communion of Saints: The Forgiveness of sins: The Resurrection of the body: And the Life everlasting. Amen.
The Lord be with you.
—And with thy spirit.
Let us pray.
O Lord, show thy mercy upon us.
—And grant us thy salvation.
O God, make clean our hearts within us.
—And take not thy Holy Spirit from us.
A Collect for Peace
O GOD, who are the author of peace and lover of concord, in knowledge of whom standeth our eternal life, whose service is perfect freedom; Defend us thy humble servants in all assaults of our enemies; that we, surely trusting in thy defence, may not fear the power of any adversaries, through the might of Jesus Christ our Lord. Amen.
A Collect for Grace
O LORD, our heavenly Father, Almighty and everlasting God, who hast safely brought us to the beginning of this day; Defend us in the same with thy mighty power; and grant that this day we fall into no sin, neither run into any kind of danger; but that all our doings, being ordered by thy governance, may be righteous in thy sight; through Jesus Christ our Lord. Amen.
A General Thanksgiving
ALMIGHTY God, Father of all mercies, we, thine unworthy servants, do give thee most humble and hearty thanks for all thy goodness and loving-kindness to us and to all men; We bless thee for our creation, preservation, and all the blessings of this life; but above all, for thine inestimable love in the redemption of the world by our Lord Jesus Christ; for the means of grace, and for the hope of glory. And, we beseech thee, give us that due sense of all thy mercies, that our hearts may he unfeignedly thankful; and that we show forth thy praise, not only with our lips, but in our lives, by giving up our selves to thy service, and by walking before thee in holiness and righteousness all our days; through Jesus Christ our Lord, to whom, with thee and the Holy Ghost, be all honour and glory, world without end. Amen.
Weekly Prayer Intentions
We pray for:
The mission of the Orthodox Anglican Church
Members of Christ Church
For the victims of the Las Vegas shooting
Shirley and Dick Carlson
Alex and Linda
Carrie and Meridith
Rodney
A Prayer of St. Chrysostom
ALMIGHTY God, who hast given us grace at this time with one accord to make our common supplications unto thee; and dost promise that when two or three are gathered together in thy Name thou wilt grant their requests; Fulfil now, O Lord, the desires and petitions of thy servants, as may be most expedient for them; granting us in this world knowledge of thy truth, and in the world to come life everlasting. Amen.

2 Cor. 13:14
THE grace of our Lord Jesus Christ, and the love of God, and the fellowship of the Holy Ghost, be with us all evermore. Amen.
Here endeth the Order of Morning Prayer.