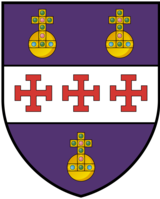 DAILY OFFICE
Tuesday Morning Prayer 
THE Lord is in his holy temple: let all the earth keep silence before him.  Hab. 2:20.
Grace be unto you, and peace, from God our Father, and from the Lord Jesus Christ. Phil. 1:2.
LET us humbly confess our sins unto Almighty God.
A General Confession 
ALMIGHTY and most merciful Father; We have erred, and strayed from thy ways like lost sheep. We have followed too much the devices and desires of our own hearts. We have offended against thy holy laws. We have left undone those things which we ought to have done; And we have done those things which we ought not to have done; And there is no health in us. But thou, O Lord, have mercy upon us, miserable offenders. Spare thou those, O God, who confess their faults. Restore thou those who are penitent; According to thy promises declared unto mankind In Christ Jesus our Lord. And grant, O most merciful Father, for his sake; That we may hereafter live a godly, righteous, and sober life, To the glory of thy holy Name. Amen.
The Declaration of Absolution
ALMIGHTY God, the Father of our Lord Jesus Christ, who desireth not the death of a sinner, but rather that he may turn from his wickedness and live, hath given power, and commandment, to his Ministers, to declare and pronounce to his people, being penitent, the Absolution and Remission of their sins. He pardoneth and absolveth all those who truly repent, and unfeignedly believe his holy Gospel.
Wherefore let us beseech him to grant us true repentance, and his Holy Spirit, that those things may please him which we do at this present; and that the rest of our life hereafter may be pure and holy; so that at the last we may come to his eternal joy; through Jesus Christ our Lord. Amen.
The Lord's Prayer
OUR Father, who art in heaven, Hallowed be thy Name. Thy kingdom come. Thy will be done on earth, As it is in heaven. Give us this day our daily bread. And forgive us our trespasses, As we forgive those who trespass against us. And lead us not into temptation; But deliver us from evil: For thine is the kingdom, and the power, and the glory, for ever and ever. Amen.
O Lord, open thou our lips.
—And our mouth shall show forth thy praise.
GLORY be to the Father, and to the Son, * and to the Holy Ghost;
As it was in the beginning, is now, and ever shall be, * world without end. Amen.
Praise ye the Lord.
—The Lord's Name be praised.
Venite, exultemus Domino.
O COME, let us sing unto the LORD; * let us heartily rejoice in the strength of our salvation.   Let us come before his presence with thanksgiving; * and show ourselves glad in him with psalms.  For the LORD is a great God; * and a great King above all gods.
In his hand are all the corners of the earth; * and the strength of the hills is his also.
The sea is his, and he made it; * and his hands prepared the dry land.
O come, let us worship and fall down, * and kneel before the LORD our Maker.
For he is the Lord our God; * and we are the people of his pasture, and the sheep of his hand.
O worship the LORD in the beauty of holiness; * let the whole earth stand in awe of him.
For he cometh, for he cometh to judge the earth; * and with righteousness to judge the world, and the people with his truth.
GLORY be to the Father, and to the Son, * and to the Holy Ghost;
As it was in the beginning, is now, and ever shall be, * world without end. Amen.
The Psalter
Psalm 119:105-144
105 Thy word is a lamp unto my feet, and a light unto my path.
106 I have sworn, and I will perform it, that I will keep thy righteous judgments.
107 I am afflicted very much: quicken me, O LORD, according unto thy word.
108 Accept, I beseech thee, the freewill offerings of my mouth, O LORD, and teach me thy judgments.
109 My soul is continually in my hand: yet do I not forget thy law.
110 The wicked have laid a snare for me: yet I erred not from thy precepts.
111 Thy testimonies have I taken as an heritage for ever: for they are the rejoicing of my heart.
112 I have inclined mine heart to perform thy statutes alway, even unto the end.
113 I hate vain thoughts: but thy law do I love.
114 Thou art my hiding place and my shield: I hope in thy word.
115 Depart from me, ye evildoers: for I will keep the commandments of my God.
116 Uphold me according unto thy word, that I may live: and let me not be ashamed of my hope.
117 Hold thou me up, and I shall be safe: and I will have respect unto thy statutes continually.
118 Thou hast trodden down all them that err from thy statutes: for their deceit is falsehood.
119 Thou puttest away all the wicked of the earth like dross: therefore I love thy testimonies.
120 My flesh trembleth for fear of thee; and I am afraid of thy judgments.
121 I have done judgment and justice: leave me not to mine oppressors.
122 Be surety for thy servant for good: let not the proud oppress me.
123 Mine eyes fail for thy salvation, and for the word of thy righteousness.
124 Deal with thy servant according unto thy mercy, and teach me thy statutes.
125 I am thy servant; give me understanding, that I may know thy testimonies.
126 It is time for thee, LORD, to work: for they have made void thy law.
127 Therefore I love thy commandments above gold; yea, above fine gold.
128 Therefore I esteem all thy precepts concerning all things to be right; and I hate every false way.
129 Thy testimonies are wonderful: therefore doth my soul keep them.
130 The entrance of thy words giveth light; it giveth understanding unto the simple.
131 I opened my mouth, and panted: for I longed for thy commandments.
132 Look thou upon me, and be merciful unto me, as thou usest to do unto those that love thy name.
133 Order my steps in thy word: and let not any iniquity have dominion over me.
134 Deliver me from the oppression of man: so will I keep thy precepts.
135 Make thy face to shine upon thy servant; and teach me thy statutes.
136 Rivers of waters run down mine eyes, because they keep not thy law.
137 Righteous art thou, O LORD, and upright are thy judgments.
138 Thy testimonies that thou hast commanded are righteous and very faithful.
139 My zeal hath consumed me, because mine enemies have forgotten thy words.
140 Thy word is very pure: therefore thy servant loveth it.
141 I am small and despised: yet do not I forget thy precepts.
142 Thy righteousness is an everlasting righteousness, and thy law is the truth.
143 Trouble and anguish have taken hold on me: yet thy commandments are my delights.
144 The righteousness of thy testimonies is everlasting: give me understanding, and I shall live.
GLORY be to the Father, and to the Son, * and to the Holy Ghost;
As it was in the beginning, is now, and ever shall be, * world without end. Amen.
The First Lesson
2 Chronicles 24:17-22
17 Now after the death of Jehoiada came the princes of Judah, and made obeisance to the king. Then the king hearkened unto them.
18 And they left the house of the LORD God of their fathers, and served groves and idols: and wrath came upon Judah and Jerusalem for this their trespass.
19 Yet he sent prophets to them, to bring them again unto the LORD; and they testified against them: but they would not give ear.
20 And the Spirit of God came upon Zechariah the son of Jehoiada the priest, which stood above the people, and said unto them, Thus saith God, Why transgress ye the commandments of the LORD, that ye cannot prosper? because ye have forsaken the LORD, he hath also forsaken you.
21 And they conspired against him, and stoned him with stones at the commandment of the king in the court of the house of the LORD.
22 Thus Joash the king remembered not the kindness which Jehoiada his father had done to him, but slew his son. And when he died, he said, The LORD look upon it, and require it.
Benedictus es Domine
BLESSED art thou, O Lord God of our fathers; * praised and exalted above all for ever.
Blessed art thou for the Name of thy Majesty; * praised and exalted above all for ever.
Blessed art thou in the temple of thy holiness; * Praised and exalted above all for ever.
Blessed art thou that beholdest the depths, and dwellest between the Cherubim: * praised and exalted above all for ever.
Blessed art thou on the glorious throne of thy Kingdom: * praised and exalted above all for ever.
Blessed art thou in the firmament of heaven: * praised and exalted above all for ever.
GLORY be to the Father, and to the Son, * and to the Holy Ghost;
As it was in the beginning, is now, and ever shall be, * world without end. Amen.
The Second Lesson
Acts 6
1 And in those days, when the number of the disciples was multiplied, there arose a murmuring of the Grecians against the Hebrews, because their widows were neglected in the daily ministration.
2 Then the twelve called the multitude of the disciples unto them, and said, It is not reason that we should leave the word of God, and serve tables.
3 Wherefore, brethren, look ye out among you seven men of honest report, full of the Holy Ghost and wisdom, whom we may appoint over this business.
4 But we will give ourselves continually to prayer, and to the ministry of the word.
5 And the saying pleased the whole multitude: and they chose Stephen, a man full of faith and of the Holy Ghost, and Philip, and Prochorus, and Nicanor, and Timon, and Parmenas, and Nicolas a proselyte of Antioch:
6 Whom they set before the apostles: and when they had prayed, they laid their hands on them.
7 And the word of God increased; and the number of the disciples multiplied in Jerusalem greatly; and a great company of the priests were obedient to the faith.
8 And Stephen, full of faith and power, did great wonders and miracles among the people.
9 Then there arose certain of the synagogue, which is called the synagogue of the Libertines, and Cyrenians, and Alexandrians, and of them of Cilicia and of Asia, disputing with Stephen.
10 And they were not able to resist the wisdom and the spirit by which he spake.
11 Then they suborned men, which said, We have heard him speak blasphemous words against Moses, and against God.
12 And they stirred up the people, and the elders, and the scribes, and came upon him, and caught him, and brought him to the council,
13 And set up false witnesses, which said, This man ceaseth not to speak blasphemous words against this holy place, and the law:
14 For we have heard him say, that this Jesus of Nazareth shall destroy this place, and shall change the customs which Moses delivered us.
15 And all that sat in the council, looking stedfastly on him, saw his face as it had been the face of an angel.
Jubilate Deo
O BE joyful in the LORD, all ye lands: * serve the LORD with gladness, and come before his presence with a song.
Be ye sure that the LORD he is God; it is he that hath made us, and not we ourselves; * we are his people, and the sheep of his pasture.
O go your way into his gates with thanksgiving, and into his courts with praise; * be thankful unto him, and speak good of his Name.
For the LORD is gracious, his mercy is everlasting; * and his truth endureth from generation to generation.
GLORY be to the Father, and to the Son, * and to the Holy Ghost;
As it was in the beginning, is now, and ever shall be, * world without end. Amen.
The Apostles Creed
I BELIEVE in God the Father Almighty, Maker of heaven and earth: And in Jesus Christ his only Son our Lord: Who was conceived by the Holy Ghost, Born of the Virgin Mary: Suffered under Pontius Pilate, Was crucified, dead, and buried: He descended into hell; The third day he rose again from the dead: He ascended into heaven, And sitteth on the right hand of God the Father Almighty: From thence he shall come to judge the quick and the dead. I believe in the Holy Ghost: The holy Catholic Church; The Communion of Saints: The Forgiveness of sins: The Resurrection of the body: And the Life everlasting. Amen.
The Lord be with you.
—And with thy spirit.
Let us pray.
O Lord, show thy mercy upon us.
—And grant us thy salvation.
O God, make clean our hearts within us.
—And take not thy Holy Spirit from us.
A Collect for Peace
O GOD, who are the author of peace and lover of concord, in knowledge of whom standeth our eternal life, whose service is perfect freedom; Defend us thy humble servants in all assaults of our enemies; that we, surely trusting in thy defence, may not fear the power of any adversaries, through the might of Jesus Christ our Lord. Amen.
A Collect for Grace
O LORD, our heavenly Father, Almighty and everlasting God, who hast safely brought us to the beginning of this day; Defend us in the same with thy mighty power; and grant that this day we fall into no sin, neither run into any kind of danger; but that all our doings, being ordered by thy governance, may be righteous in thy sight; through Jesus Christ our Lord. Amen.
A General Thanksgiving
ALMIGHTY God, Father of all mercies, we, thine unworthy servants, do give thee most humble and hearty thanks for all thy goodness and loving-kindness to us and to all men; We bless thee for our creation, preservation, and all the blessings of this life; but above all, for thine inestimable love in the redemption of the world by our Lord Jesus Christ; for the means of grace, and for the hope of glory. And, we beseech thee, give us that due sense of all thy mercies, that our hearts may he unfeignedly thankful; and that we show forth thy praise, not only with our lips, but in our lives, by giving up our selves to thy service, and by walking before thee in holiness and righteousness all our days; through Jesus Christ our Lord, to whom, with thee and the Holy Ghost, be all honour and glory, world without end. Amen.
Weekly Prayer Intentions
We pray for:
The mission of the Orthodox Anglican Church
Members of Christ Church and their intentions
A Prayer of St. Chrysostom
ALMIGHTY God, who hast given us grace at this time with one accord to make our common supplications unto thee; and dost promise that when two or three are gathered together in thy Name thou wilt grant their requests; Fulfil now, O Lord, the desires and petitions of thy servants, as may be most expedient for them; granting us in this world knowledge of thy truth, and in the world to come life everlasting. Amen.

2 Cor. 13:14
THE grace of our Lord Jesus Christ, and the love of God, and the fellowship of the Holy Ghost, be with us all evermore. Amen.
Here endeth the Order of Morning Prayer.