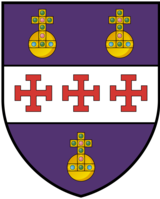 DAILY OFFICE
Thursday Morning Prayer 
THE Lord is in his holy temple: let all the earth keep silence before him.  Hab. 2:20.
Grace be unto you, and peace, from God our Father, and from the Lord Jesus Christ. Phil. 1:2.
LET us humbly confess our sins unto Almighty God.
A General Confession 
ALMIGHTY and most merciful Father; We have erred, and strayed from thy ways like lost sheep. We have followed too much the devices and desires of our own hearts. We have offended against thy holy laws. We have left undone those things which we ought to have done; And we have done those things which we ought not to have done; And there is no health in us. But thou, O Lord, have mercy upon us, miserable offenders. Spare thou those, O God, who confess their faults. Restore thou those who are penitent; According to thy promises declared unto mankind In Christ Jesus our Lord. And grant, O most merciful Father, for his sake; That we may hereafter live a godly, righteous, and sober life, To the glory of thy holy Name. Amen.
The Declaration of Absolution
ALMIGHTY God, the Father of our Lord Jesus Christ, who desireth not the death of a sinner, but rather that he may turn from his wickedness and live, hath given power, and commandment, to his Ministers, to declare and pronounce to his people, being penitent, the Absolution and Remission of their sins. He pardoneth and absolveth all those who truly repent, and unfeignedly believe his holy Gospel.
Wherefore let us beseech him to grant us true repentance, and his Holy Spirit, that those things may please him which we do at this present; and that the rest of our life hereafter may be pure and holy; so that at the last we may come to his eternal joy; through Jesus Christ our Lord. Amen.
The Lord's Prayer
OUR Father, who art in heaven, Hallowed be thy Name. Thy kingdom come. Thy will be done on earth, As it is in heaven. Give us this day our daily bread. And forgive us our trespasses, As we forgive those who trespass against us. And lead us not into temptation; But deliver us from evil: For thine is the kingdom, and the power, and the glory, for ever and ever. Amen.
O Lord, open thou our lips.
—And our mouth shall show forth thy praise.
GLORY be to the Father, and to the Son, * and to the Holy Ghost;
As it was in the beginning, is now, and ever shall be, * world without end. Amen.
Praise ye the Lord.
—The Lord's Name be praised.
Venite, exultemus Domino.
O COME, let us sing unto the LORD; * let us heartily rejoice in the strength of our salvation.   Let us come before his presence with thanksgiving; * and show ourselves glad in him with psalms.  For the LORD is a great God; * and a great King above all gods.
In his hand are all the corners of the earth; * and the strength of the hills is his also.
The sea is his, and he made it; * and his hands prepared the dry land.
O come, let us worship and fall down, * and kneel before the LORD our Maker.
For he is the Lord our God; * and we are the people of his pasture, and the sheep of his hand.
O worship the LORD in the beauty of holiness; * let the whole earth stand in awe of him.
For he cometh, for he cometh to judge the earth; * and with righteousness to judge the world, and the people with his truth.
GLORY be to the Father, and to the Son, * and to the Holy Ghost;
As it was in the beginning, is now, and ever shall be, * world without end. Amen.
The Psalter
Psalm 71
1 In thee, O LORD, do I put my trust: let me never be put to confusion.
2 Deliver me in thy righteousness, and cause me to escape: incline thine ear unto me, and save me.
3 Be thou my strong habitation, whereunto I may continually resort: thou hast given commandment to save me; for thou art my rock and my fortress.
4 Deliver me, O my God, out of the hand of the wicked, out of the hand of the unrighteous and cruel man.
5 For thou art my hope, O Lord GOD: thou art my trust from my youth.
6 By thee have I been holden up from the womb: thou art he that took me out of my mother's bowels: my praise shall be continually of thee.
7 I am as a wonder unto many; but thou art my strong refuge.
8 Let my mouth be filled with thy praise and with thy honour all the day.
9 Cast me not off in the time of old age; forsake me not when my strength faileth.
10 For mine enemies speak against me; and they that lay wait for my soul take counsel together,
11 Saying, God hath forsaken him: persecute and take him; for there is none to deliver him.
12 O God, be not far from me: O my God, make haste for my help.
13 Let them be confounded and consumed that are adversaries to my soul; let them be covered with reproach and dishonour that seek my hurt.
14 But I will hope continually, and will yet praise thee more and more.
15 My mouth shall shew forth thy righteousness and thy salvation all the day; for I know not the numbers thereof.
16 I will go in the strength of the Lord GOD: I will make mention of thy righteousness, even of thine only.
17 O God, thou hast taught me from my youth: and hitherto have I declared thy wondrous works.
18 Now also when I am old and grayheaded, O God, forsake me not; until I have shewed thy strength unto this generation, and thy power to every one that is to come.
19 Thy righteousness also, O God, is very high, who hast done great things: O God, who is like unto thee!
20 Thou, which hast shewed me great and sore troubles, shalt quicken me again, and shalt bring me up again from the depths of the earth.
21 Thou shalt increase my greatness, and comfort me on every side.
22 I will also praise thee with the psaltery, even thy truth, O my God: unto thee will I sing with the harp, O thou Holy One of Israel.
23 My lips shall greatly rejoice when I sing unto thee; and my soul, which thou hast redeemed.
24 My tongue also shall talk of thy righteousness all the day long: for they are confounded, for they are brought unto shame, that seek my hurt.
Psalm 72
1 Give the king thy judgments, O God, and thy righteousness unto the king's son.
2 He shall judge thy people with righteousness, and thy poor with judgment.
3 The mountains shall bring peace to the people, and the little hills, by righteousness.
4 He shall judge the poor of the people, he shall save the children of the needy, and shall break in pieces the oppressor.
5 They shall fear thee as long as the sun and moon endure, throughout all generations.
6 He shall come down like rain upon the mown grass: as showers that water the earth.
7 In his days shall the righteous flourish; and abundance of peace so long as the moon endureth.
8 He shall have dominion also from sea to sea, and from the river unto the ends of the earth.
9 They that dwell in the wilderness shall bow before him; and his enemies shall lick the dust.
10 The kings of Tarshish and of the isles shall bring presents: the kings of Sheba and Seba shall offer gifts.
11 Yea, all kings shall fall down before him: all nations shall serve him.
12 For he shall deliver the needy when he crieth; the poor also, and him that hath no helper.
13 He shall spare the poor and needy, and shall save the souls of the needy.
14 He shall redeem their soul from deceit and violence: and precious shall their blood be in his sight.
15 And he shall live, and to him shall be given of the gold of Sheba: prayer also shall be made for him continually; and daily shall he be praised.
16 There shall be an handful of corn in the earth upon the top of the mountains; the fruit thereof shall shake like Lebanon: and they of the city shall flourish like grass of the earth.
17 His name shall endure for ever: his name shall be continued as long as the sun: and men shall be blessed in him: all nations shall call him blessed.
18 Blessed be the LORD God, the God of Israel, who only doeth wondrous things.
19 And blessed be his glorious name for ever: and let the whole earth be filled with his glory; Amen, and Amen.
20 The prayers of David the son of Jesse are ended.
GLORY be to the Father, and to the Son, * and to the Holy Ghost;
As it was in the beginning, is now, and ever shall be, * world without end. Amen.
The First Lesson
Isaiah 13:1-5, 17-22
1 The burden of Babylon, which Isaiah the son of Amoz did see.
2 Lift ye up a banner upon the high mountain, exalt the voice unto them, shake the hand, that they may go into the gates of the nobles.
3 I have commanded my sanctified ones, I have also called my mighty ones for mine anger, even them that rejoice in my highness.
4 The noise of a multitude in the mountains, like as of a great people; a tumultuous noise of the kingdoms of nations gathered together: the LORD of hosts mustereth the host of the battle.
5 They come from a far country, from the end of heaven, even the LORD, and the weapons of his indignation, to destroy the whole land.
17 Behold, I will stir up the Medes against them, which shall not regard silver; and as for gold, they shall not delight in it.
18 Their bows also shall dash the young men to pieces; and they shall have no pity on the fruit of the womb; their eye shall not spare children.
19 And Babylon, the glory of kingdoms, the beauty of the Chaldees' excellency, shall be as when God overthrew Sodom and Gomorrah.
20 It shall never be inhabited, neither shall it be dwelt in from generation to generation: neither shall the Arabian pitch tent there; neither shall the shepherds make their fold there.
21 But wild beasts of the desert shall lie there; and their houses shall be full of doleful creatures; and owls shall dwell there, and satyrs shall dance there.
22 And the wild beasts of the islands shall cry in their desolate houses, and dragons in their pleasant palaces: and her time is near to come, and her days shall not be prolonged.
Benedictus es Domine
BLESSED art thou, O Lord God of our fathers; * praised and exalted above all for ever.
Blessed art thou for the Name of thy Majesty; * praised and exalted above all for ever.
Blessed art thou in the temple of thy holiness; * Praised and exalted above all for ever.
Blessed art thou that beholdest the depths, and dwellest between the Cherubim: * praised and exalted above all for ever.
Blessed art thou on the glorious throne of thy Kingdom: * praised and exalted above all for ever.
Blessed art thou in the firmament of heaven: * praised and exalted above all for ever.
GLORY be to the Father, and to the Son, * and to the Holy Ghost;
As it was in the beginning, is now, and ever shall be, * world without end. Amen.
The Second Lesson
Mark 4:1-20
1 And he began again to teach by the sea side: and there was gathered unto him a great multitude, so that he entered into a ship, and sat in the sea; and the whole multitude was by the sea on the land.
2 And he taught them many things by parables, and said unto them in his doctrine,
3 Hearken; Behold, there went out a sower to sow:
4 And it came to pass, as he sowed, some fell by the way side, and the fowls of the air came and devoured it up.
5 And some fell on stony ground, where it had not much earth; and immediately it sprang up, because it had no depth of earth:
6 But when the sun was up, it was scorched; and because it had no root, it withered away.
7 And some fell among thorns, and the thorns grew up, and choked it, and it yielded no fruit.
8 And other fell on good ground, and did yield fruit that sprang up and increased; and brought forth, some thirty, and some sixty, and some an hundred.
9 And he said unto them, He that hath ears to hear, let him hear.
10 And when he was alone, they that were about him with the twelve asked of him the parable.
11 And he said unto them, Unto you it is given to know the mystery of the kingdom of God: but unto them that are without, all these things are done in parables:
12 That seeing they may see, and not perceive; and hearing they may hear, and not understand; lest at any time they should be converted, and their sins should be forgiven them.
13 And he said unto them, Know ye not this parable? and how then will ye know all parables?
14 The sower soweth the word.
15 And these are they by the way side, where the word is sown; but when they have heard, Satan cometh immediately, and taketh away the word that was sown in their hearts.
16 And these are they likewise which are sown on stony ground; who, when they have heard the word, immediately receive it with gladness;
17 And have no root in themselves, and so endure but for a time: afterward, when affliction or persecution ariseth for the word's sake, immediately they are offended.
18 And these are they which are sown among thorns; such as hear the word,
19 And the cares of this world, and the deceitfulness of riches, and the lusts of other things entering in, choke the word, and it becometh unfruitful.
20 And these are they which are sown on good ground; such as hear the word, and receive it, and bring forth fruit, some thirtyfold, some sixty, and some an hundred.
Jubilate Deo
O BE joyful in the LORD, all ye lands: * serve the LORD with gladness, and come before his presence with a song.
Be ye sure that the LORD he is God; it is he that hath made us, and not we ourselves; * we are his people, and the sheep of his pasture.
O go your way into his gates with thanksgiving, and into his courts with praise; * be thankful unto him, and speak good of his Name.
For the LORD is gracious, his mercy is everlasting; * and his truth endureth from generation to generation.
GLORY be to the Father, and to the Son, * and to the Holy Ghost;
As it was in the beginning, is now, and ever shall be, * world without end. Amen.
The Apostles Creed
I BELIEVE in God the Father Almighty, Maker of heaven and earth: And in Jesus Christ his only Son our Lord: Who was conceived by the Holy Ghost, Born of the Virgin Mary: Suffered under Pontius Pilate, Was crucified, dead, and buried: He descended into hell; The third day he rose again from the dead: He ascended into heaven, And sitteth on the right hand of God the Father Almighty: From thence he shall come to judge the quick and the dead. I believe in the Holy Ghost: The holy Catholic Church; The Communion of Saints: The Forgiveness of sins: The Resurrection of the body: And the Life everlasting. Amen.
The Lord be with you.
—And with thy spirit.
Let us pray.
O Lord, show thy mercy upon us.
—And grant us thy salvation.
O God, make clean our hearts within us.
—And take not thy Holy Spirit from us.
A Collect for Peace
O GOD, who are the author of peace and lover of concord, in knowledge of whom standeth our eternal life, whose service is perfect freedom; Defend us thy humble servants in all assaults of our enemies; that we, surely trusting in thy defence, may not fear the power of any adversaries, through the might of Jesus Christ our Lord. Amen.
A Collect for Grace
O LORD, our heavenly Father, Almighty and everlasting God, who hast safely brought us to the beginning of this day; Defend us in the same with thy mighty power; and grant that this day we fall into no sin, neither run into any kind of danger; but that all our doings, being ordered by thy governance, may be righteous in thy sight; through Jesus Christ our Lord. Amen.
A General Thanksgiving
ALMIGHTY God, Father of all mercies, we, thine unworthy servants, do give thee most humble and hearty thanks for all thy goodness and loving-kindness to us and to all men; We bless thee for our creation, preservation, and all the blessings of this life; but above all, for thine inestimable love in the redemption of the world by our Lord Jesus Christ; for the means of grace, and for the hope of glory. And, we beseech thee, give us that due sense of all thy mercies, that our hearts may he unfeignedly thankful; and that we show forth thy praise, not only with our lips, but in our lives, by giving up our selves to thy service, and by walking before thee in holiness and righteousness all our days; through Jesus Christ our Lord, to whom, with thee and the Holy Ghost, be all honour and glory, world without end. Amen.
Weekly Prayer Intentions
We pray for:
The mission of the Orthodox Anglican Church
Members of Christ Church
Hospice patients and their families
Alex and Linda
Meredith and Carrie
Fr. Stallions and Micah
Anna, Adam, and Katie
A Prayer of St. Chrysostom
ALMIGHTY God, who hast given us grace at this time with one accord to make our common supplications unto thee; and dost promise that when two or three are gathered together in thy Name thou wilt grant their requests; Fulfil now, O Lord, the desires and petitions of thy servants, as may be most expedient for them; granting us in this world knowledge of thy truth, and in the world to come life everlasting. Amen.

2 Cor. 13:14
THE grace of our Lord Jesus Christ, and the love of God, and the fellowship of the Holy Ghost, be with us all evermore. Amen.
Here endeth the Order of Morning Prayer.