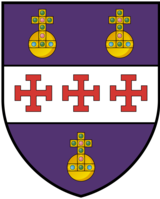 DAILY OFFICE
Sunday Morning Prayer 10.15.17
THE Lord is in his holy temple: let all the earth keep silence before him.  Hab. 2:20.
Grace be unto you, and peace, from God our Father, and from the Lord Jesus Christ. Phil. 1:2.
LET us humbly confess our sins unto Almighty God.
A General Confession 
ALMIGHTY and most merciful Father; We have erred, and strayed from thy ways like lost sheep. We have followed too much the devices and desires of our own hearts. We have offended against thy holy laws. We have left undone those things which we ought to have done; And we have done those things which we ought not to have done; And there is no health in us. But thou, O Lord, have mercy upon us, miserable offenders. Spare thou those, O God, who confess their faults. Restore thou those who are penitent; According to thy promises declared unto mankind In Christ Jesus our Lord. And grant, O most merciful Father, for his sake; That we may hereafter live a godly, righteous, and sober life, To the glory of thy holy Name. Amen.
The Declaration of Absolution
ALMIGHTY God, the Father of our Lord Jesus Christ, who desireth not the death of a sinner, but rather that he may turn from his wickedness and live, hath given power, and commandment, to his Ministers, to declare and pronounce to his people, being penitent, the Absolution and Remission of their sins. He pardoneth and absolveth all those who truly repent, and unfeignedly believe his holy Gospel.
Wherefore let us beseech him to grant us true repentance, and his Holy Spirit, that those things may please him which we do at this present; and that the rest of our life hereafter may be pure and holy; so that at the last we may come to his eternal joy; through Jesus Christ our Lord. Amen.
The Lord's Prayer
OUR Father, who art in heaven, Hallowed be thy Name. Thy kingdom come. Thy will be done on earth, As it is in heaven. Give us this day our daily bread. And forgive us our trespasses, As we forgive those who trespass against us. And lead us not into temptation; But deliver us from evil: For thine is the kingdom, and the power, and the glory, for ever and ever. Amen.
O Lord, open thou our lips.
—And our mouth shall show forth thy praise.
GLORY be to the Father, and to the Son, * and to the Holy Ghost;
As it was in the beginning, is now, and ever shall be, * world without end. Amen.
Praise ye the Lord.
—The Lord's Name be praised.
Venite, exultemus Domino.
O COME, let us sing unto the LORD; * let us heartily rejoice in the strength of our salvation.   Let us come before his presence with thanksgiving; * and show ourselves glad in him with psalms.  For the LORD is a great God; * and a great King above all gods.
In his hand are all the corners of the earth; * and the strength of the hills is his also.
The sea is his, and he made it; * and his hands prepared the dry land.
O come, let us worship and fall down, * and kneel before the LORD our Maker.
For he is the Lord our God; * and we are the people of his pasture, and the sheep of his hand.
O worship the LORD in the beauty of holiness; * let the whole earth stand in awe of him.
For he cometh, for he cometh to judge the earth; * and with righteousness to judge the world, and the people with his truth.
GLORY be to the Father, and to the Son, * and to the Holy Ghost;
As it was in the beginning, is now, and ever shall be, * world without end. Amen.
The Psalter
Psalm 75
1 Unto thee, O God, do we give thanks, unto thee do we give thanks: for that thy name is near thy wondrous works declare.
2 When I shall receive the congregation I will judge uprightly.
3 The earth and all the inhabitants thereof are dissolved: I bear up the pillars of it. Selah.
4 I said unto the fools, Deal not foolishly: and to the wicked, Lift not up the horn:
5 Lift not up your horn on high: speak not with a stiff neck.
6 For promotion cometh neither from the east, nor from the west, nor from the south.
7 But God is the judge: he putteth down one, and setteth up another.
8 For in the hand of the LORD there is a cup, and the wine is red; it is full of mixture; and he poureth out of the same: but the dregs thereof, all the wicked of the earth shall wring them out, and drink them.
9 But I will declare for ever; I will sing praises to the God of Jacob.
10 All the horns of the wicked also will I cut off; but the horns of the righteous shall be exalted.
Psalm 76
1 In Judah is God known: his name is great in Israel.
2 In Salem also is his tabernacle, and his dwelling place in Zion.
3 There brake he the arrows of the bow, the shield, and the sword, and the battle. Selah.
4 Thou art more glorious and excellent than the mountains of prey.
5 The stouthearted are spoiled, they have slept their sleep: and none of the men of might have found their hands.
6 At thy rebuke, O God of Jacob, both the chariot and horse are cast into a dead sleep.
7 Thou, even thou, art to be feared: and who may stand in thy sight when once thou art angry?
8 Thou didst cause judgment to be heard from heaven; the earth feared, and was still,
9 When God arose to judgment, to save all the meek of the earth. Selah.
10 Surely the wrath of man shall praise thee: the remainder of wrath shalt thou restrain.
11 Vow, and pay unto the LORD your God: let all that be round about him bring presents unto him that ought to be feared.
12 He shall cut off the spirit of princes: he is terrible to the kings of the earth.
Psalm 77
1 I cried unto God with my voice, even unto God with my voice; and he gave ear unto me.
2 In the day of my trouble I sought the Lord: my sore ran in the night, and ceased not: my soul refused to be comforted.
3 I remembered God, and was troubled: I complained, and my spirit was overwhelmed. Selah.
4 Thou holdest mine eyes waking: I am so troubled that I cannot speak.
5 I have considered the days of old, the years of ancient times.
6 I call to remembrance my song in the night: I commune with mine own heart: and my spirit made diligent search.
7 Will the Lord cast off for ever? and will he be favourable no more?
8 Is his mercy clean gone for ever? doth his promise fail for evermore?
9 Hath God forgotten to be gracious? hath he in anger shut up his tender mercies? Selah.
10 And I said, This is my infirmity: but I will remember the years of the right hand of the most High.
11 I will remember the works of the LORD: surely I will remember thy wonders of old.
12 I will meditate also of all thy work, and talk of thy doings.
13 Thy way, O God, is in the sanctuary: who is so great a God as our God?
14 Thou art the God that doest wonders: thou hast declared thy strength among the people.
15 Thou hast with thine arm redeemed thy people, the sons of Jacob and Joseph. Selah.
16 The waters saw thee, O God, the waters saw thee; they were afraid: the depths also were troubled.
17 The clouds poured out water: the skies sent out a sound: thine arrows also went abroad.
18 The voice of thy thunder was in the heaven: the lightnings lightened the world: the earth trembled and shook.
19 Thy way is in the sea, and thy path in the great waters, and thy footsteps are not known.
20 Thou leddest thy people like a flock by the hand of Moses and Aaron.
GLORY be to the Father, and to the Son, * and to the Holy Ghost;
As it was in the beginning, is now, and ever shall be, * world without end. Amen.
The First Lesson
Proverbs 2:1-9
1 My son, if thou wilt receive my words, and hide my commandments with thee;
2 So that thou incline thine ear unto wisdom, and apply thine heart to understanding;
3 Yea, if thou criest after knowledge, and liftest up thy voice for understanding;
4 If thou seekest her as silver, and searchest for her as for hid treasures;
5 Then shalt thou understand the fear of the LORD, and find the knowledge of God.
6 For the LORD giveth wisdom: out of his mouth cometh knowledge and understanding.
7 He layeth up sound wisdom for the righteous: he is a buckler to them that walk uprightly.
8 He keepeth the paths of judgment, and preserveth the way of his saints.
9 Then shalt thou understand righteousness, and judgment, and equity; yea, every good path.
Benedictus es Domine
BLESSED art thou, O Lord God of our fathers; * praised and exalted above all for ever.
Blessed art thou for the Name of thy Majesty; * praised and exalted above all for ever.
Blessed art thou in the temple of thy holiness; * Praised and exalted above all for ever.
Blessed art thou that beholdest the depths, and dwellest between the Cherubim: * praised and exalted above all for ever.
Blessed art thou on the glorious throne of thy Kingdom: * praised and exalted above all for ever.
Blessed art thou in the firmament of heaven: * praised and exalted above all for ever.
GLORY be to the Father, and to the Son, * and to the Holy Ghost;
As it was in the beginning, is now, and ever shall be, * world without end. Amen.
The Second Lesson
1 Timothy 3:14-4:16 
14 These things write I unto thee, hoping to come unto thee shortly:
15 But if I tarry long, that thou mayest know how thou oughtest to behave thyself in the house of God, which is the church of the living God, the pillar and ground of the truth.
16 And without controversy great is the mystery of godliness: God was manifest in the flesh, justified in the Spirit, seen of angels, preached unto the Gentiles, believed on in the world, received up into glory.
1 Now the Spirit speaketh expressly, that in the latter times some shall depart from the faith, giving heed to seducing spirits, and doctrines of devils;
2 Speaking lies in hypocrisy; having their conscience seared with a hot iron;
3 Forbidding to marry, and commanding to abstain from meats, which God hath created to be received with thanksgiving of them which believe and know the truth.
4 For every creature of God is good, and nothing to be refused, if it be received with thanksgiving:
5 For it is sanctified by the word of God and prayer.
6 If thou put the brethren in remembrance of these things, thou shalt be a good minister of Jesus Christ, nourished up in the words of faith and of good doctrine, whereunto thou hast attained.
7 But refuse profane and old wives' fables, and exercise thyself rather unto godliness.
8 For bodily exercise profiteth little: but godliness is profitable unto all things, having promise of the life that now is, and of that which is to come.
9 This is a faithful saying and worthy of all acceptation.
10 For therefore we both labour and suffer reproach, because we trust in the living God, who is the Saviour of all men, specially of those that believe.
11 These things command and teach.
12 Let no man despise thy youth; but be thou an example of the believers, in word, in conversation, in charity, in spirit, in faith, in purity.
13 Till I come, give attendance to reading, to exhortation, to doctrine.
14 Neglect not the gift that is in thee, which was given thee by prophecy, with the laying on of the hands of the presbytery.
15 Meditate upon these things; give thyself wholly to them; that thy profiting may appear to all.
16 Take heed unto thyself, and unto the doctrine; continue in them: for in doing this thou shalt both save thyself, and them that hear thee.
Jubilate Deo
O BE joyful in the LORD, all ye lands: * serve the LORD with gladness, and come before his presence with a song.
Be ye sure that the LORD he is God; it is he that hath made us, and not we ourselves; * we are his people, and the sheep of his pasture.
O go your way into his gates with thanksgiving, and into his courts with praise; * be thankful unto him, and speak good of his Name.
For the LORD is gracious, his mercy is everlasting; * and his truth endureth from generation to generation.
GLORY be to the Father, and to the Son, * and to the Holy Ghost;
As it was in the beginning, is now, and ever shall be, * world without end. Amen.
The Apostles Creed
I BELIEVE in God the Father Almighty, Maker of heaven and earth: And in Jesus Christ his only Son our Lord: Who was conceived by the Holy Ghost, Born of the Virgin Mary: Suffered under Pontius Pilate, Was crucified, dead, and buried: He descended into hell; The third day he rose again from the dead: He ascended into heaven, And sitteth on the right hand of God the Father Almighty: From thence he shall come to judge the quick and the dead. I believe in the Holy Ghost: The holy Catholic Church; The Communion of Saints: The Forgiveness of sins: The Resurrection of the body: And the Life everlasting. Amen.
The Lord be with you.
—And with thy spirit.
Let us pray.
O Lord, show thy mercy upon us.
—And grant us thy salvation.
O God, make clean our hearts within us.
—And take not thy Holy Spirit from us.
A Collect for Peace
O GOD, who are the author of peace and lover of concord, in knowledge of whom standeth our eternal life, whose service is perfect freedom; Defend us thy humble servants in all assaults of our enemies; that we, surely trusting in thy defence, may not fear the power of any adversaries, through the might of Jesus Christ our Lord. Amen.
A Collect for Grace
O LORD, our heavenly Father, Almighty and everlasting God, who hast safely brought us to the beginning of this day; Defend us in the same with thy mighty power; and grant that this day we fall into no sin, neither run into any kind of danger; but that all our doings, being ordered by thy governance, may be righteous in thy sight; through Jesus Christ our Lord. Amen.
A General Thanksgiving
ALMIGHTY God, Father of all mercies, we, thine unworthy servants, do give thee most humble and hearty thanks for all thy goodness and loving-kindness to us and to all men; We bless thee for our creation, preservation, and all the blessings of this life; but above all, for thine inestimable love in the redemption of the world by our Lord Jesus Christ; for the means of grace, and for the hope of glory. And, we beseech thee, give us that due sense of all thy mercies, that our hearts may he unfeignedly thankful; and that we show forth thy praise, not only with our lips, but in our lives, by giving up our selves to thy service, and by walking before thee in holiness and righteousness all our days; through Jesus Christ our Lord, to whom, with thee and the Holy Ghost, be all honour and glory, world without end. Amen.
Weekly Prayer Intentions
We pray for:
The mission of the Orthodox Anglican Church
Members of Christ Church
For the victims of the Las Vegas shooting
Shirley and Dick Carlson
Alex and Linda
Carrie and Meridith
Rodney
Ruthie Stout
A Prayer of St. Chrysostom
ALMIGHTY God, who hast given us grace at this time with one accord to make our common supplications unto thee; and dost promise that when two or three are gathered together in thy Name thou wilt grant their requests; Fulfil now, O Lord, the desires and petitions of thy servants, as may be most expedient for them; granting us in this world knowledge of thy truth, and in the world to come life everlasting. Amen.

2 Cor. 13:14
THE grace of our Lord Jesus Christ, and the love of God, and the fellowship of the Holy Ghost, be with us all evermore. Amen.
Here endeth the Order of Morning Prayer.